Online forex brokers with user friendly platforms like MetaTrader provide retail traders with a straight forward way to start trading FX online.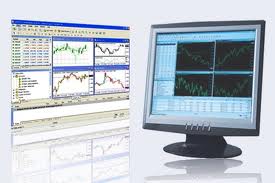 New traders who just want to get a feel for forex trading can use a free demo trading account where an online brokerage account is loaded with a theoretical amount of money, such as 50,000 US dollars for demo purposes. You then start trading like you would trade if youwere trading live with real money and not on a demo account.
FX trading can be hard due to the sheer volatility and pace that the currency markets move at. Once you get used to the directional swings, master the online FX trading software and work out a strategy you are on the right path.
The popularity of FX trading online
Fx trading online is available globally 24-hours a day, Monday through Friday. The development of online forex trading platforms allow trading to be conducted from any location that has internet access and cellular connections.
The fact that Foreign Exchange is a non-centralized global financial market is key to its trading popularity. Stability in the FX market is provided by a wide range of international financial institutions and tight market prices are available to both retail and institutional investors.