Forex Trading Using Automation
There is a myriad of forex trading strategies and styles. Traders of differing levels, from beginners to professionals, will have different ways of working. There is a divide between those who want to trade manually and others who wish to trade using automation.
Traders who go down the path of automation will need to undertake plenty of research to find automated software that matches their trading style and correctly carries out trades according to their strategy.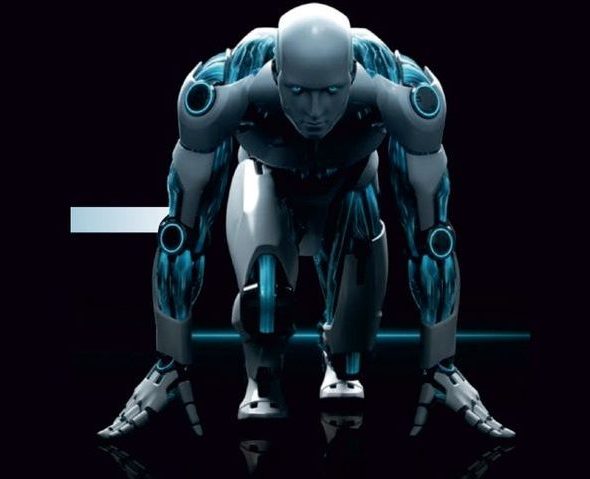 What is A Forex Robot?
To undertake fully automated trading, a trader will need to purchase or develop an automated forex trading robot. A forex trading bot, also known as an Expert Advisor or Forex EA, is computer software that uses technical signals to establish if a currency pair should be bought or sold at a point in time.

As part of an overall FX strategy, a robot helps take away the emotion out of fx trading. Emotions can sometimes result in currency traders opening trades that are not based on logical decisions or market analysis and out of line with an overall trading system. Psychology can amplify in fast or volatile forex markets or the temptation to trade quickly.
The Mechanics: How Do Forex Robots Work?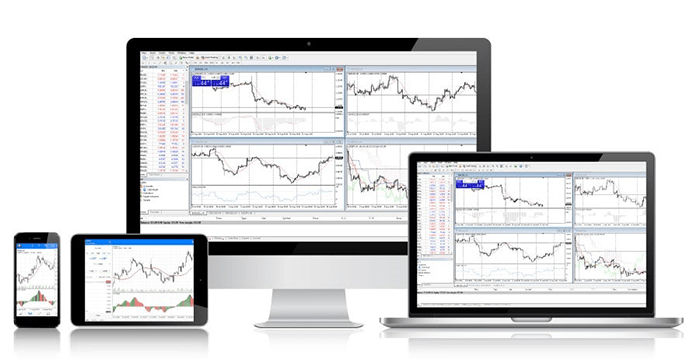 Many forex trading robots are built using the Metaquotes, MQL scripting language used exclusively with Metatrader Software. Metatrader is a leading forex trading platform used by many online brokers through which their clients trade. The ability to integrate a robot with MetaTrader allows the automatic generating of trading signals and placing orders according to the trade indicators.
Forex robots are chiefly programmed to scan and interpret charts. Additionally, they can program with specific parameters needed to make a trading decision; using forex trading signals, they decide when it is appropriate to trade or hold back.
Forex robots work best when employed to trade specific currency pairs and use a defined range or time frame as part of an overall strategy. They are typically designed to make a certain number of pips within a trading range. They can identify profitable forex trades even in unstable markets, which has an unclear trading direction for a human. They can also follow a clear trend to maximize profits.
In Practice: Do Forex Robots Work?
Forex trading bots can be a useful tool to accompany your trading strategy, but it is essential to employ an EA correctly for full effectiveness.
Traders using robots should never entirely depend on them to undertake their full range of trading activity. Expert Advisors can carry out sophisticated tasks, but their functionality can be limited to how they were initially programmed. Forex trading still requires extensive human observations and research and digesting current news and economic developments that EAs cannot do.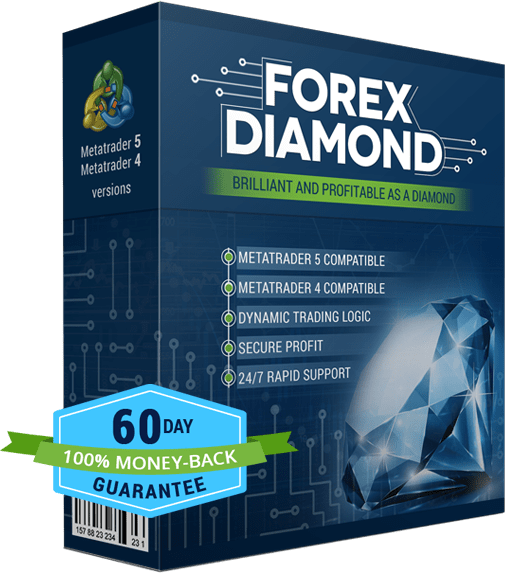 Are forex robots profitable?
Expert Advisors can generate strong profits by following short term trends within specific ranges and then identify the clearest signals on which to trade. Long term trends that can see forex market conditions with sudden adverse price movements are harder for robots to follow with the same degree of success, although more sophisticated robots with dynamic features are beginning to address this issue.
With how much can I start forex trading by robot?
Forex EAs typically work with brokers that employ the MetaTrader platform. It is the minimum trade size specified by a forex broker that drives the minimum size that can be placed for order execution using a forex trade robot.
For example, Forex.com requires just $100 to open a forex trading account but then has a minimum trade size of just $1.
A Key Consideration Before Buying A Robot for Trading Forex
Ahead of buying a robot for forex trading, perhaps the most crucial consideration is whether the robot forex trader can trade profitably as part of your broader trading strategy. The only way of really knowing is by researching for the right EA and then backtesting specific settings and demo trading before employing it in a real-money environment. Most reputable robot developers will offer a 30 day or 60-day money-back guarantee giving you time to test thoroughly.
An excellent video about automated & manual trading and how you can use a hybrid of both in a trading system
Identifying The Best Robots: Research is Essential
We have undertaken extensive research on the most important considerations to identify solid forex robots. Through our detailed analysis we have created a guide of the best forex robots on the market.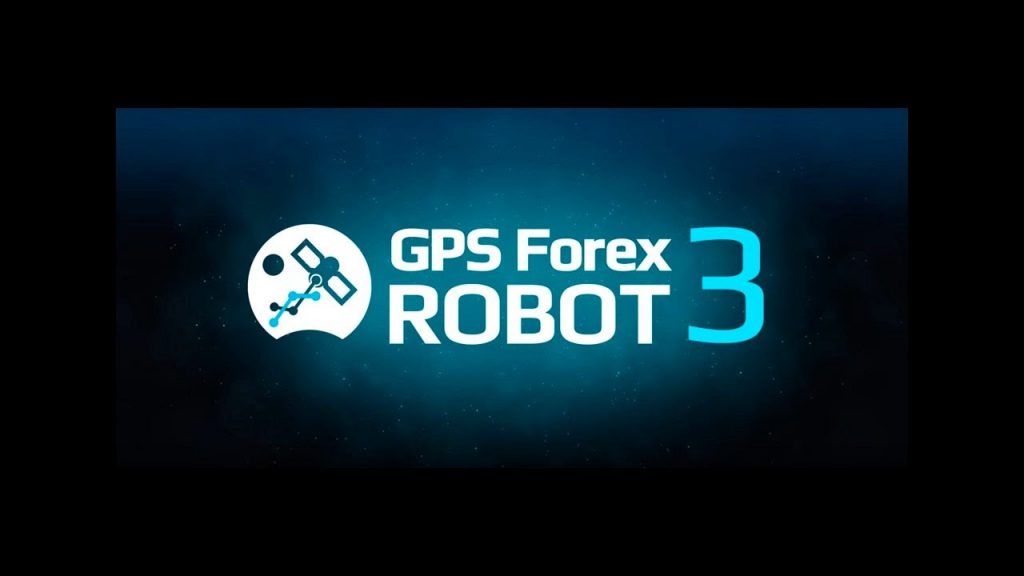 The guide provides full details, but as a concise summary:
First and foremost, you should always look for verified performance through real trading accounts. A reputable forex robot developer will make this available on either Myfxbook or FX Blue.
It is essential when researching EA software to look for authoritative online testimonials and user reviews. Online trader reviews are also essential to determine the general sentiment for a particular robot and if the forex robot trades profitably to improve winning odds. Dedicated review sites include Forex Peace Army (FPA).
Forex trading forums can also be a good source of feedback. MT5 Forum has a high degree of relevance for automated forex software. MT5 is the Metatrader platform forum, and as the majority of Expert Advisors develop using the MQL coding language, you will find many references to robots.
Not only does extensive research need to be undertaken before deciding which automated software to use as part of your trading style or strategy. Once purchased, testing the software is vital to establishing statistical expectancy as part of your overall trading system. Testing can be undertaken both through theoretical trading using a demo account and backtesting.
Backtesting
Although backtests are available from a robot's developer, there are reasons why you should do your own backtests ahead of any live trading.
Not many developers use modeling with enough accuracy to tell whether an EA will perform well as part of your strategy. If you trade USDJPY and are looking to make a nine pip profit with a six pip stop loss on every trade, if developer backtests do not include individual tick data, real-time spreads, commissions, or slippage, then automated software could actually lose money for you.
Many software developers use the Metatrader Strategy Tester, and as it only uses random bar graph data from the trading day, it is only considered 90% accurate. Developers that provide backtesting with 99.9% accuracy are using historical data with tools like Birt's Tick Data Suite and offer much more credibility; however, if you are using a robot according to your strategy, you must still backtest according to strict adjustable parameters within the robot algorithms, to align any automated forex to your trading system.
Here is a screenshot of a backtest employing 99.9% modeling accuracy: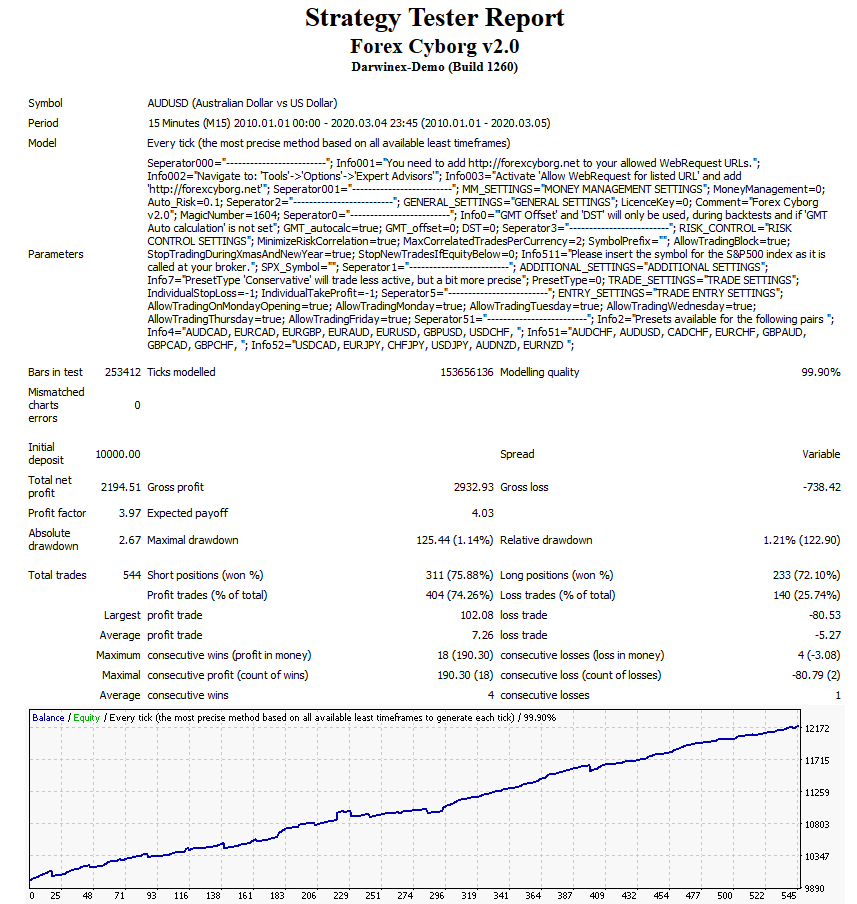 What is the Best Forex Trading Robot?
Our detailed research on understanding the role of forex robots values low drawdowns as the most important criteria for choosing a forex EA. A robot algorithm generally employing a lower drawdown has a less volatile strategy and should give more consistant monthly performance.
Forex Diamond is the robot with one of the lowest drawdown that we have researched. We have undertaken a full review of Forex Diamond to complement backtesting and full performance results at the Forex Diamond official site.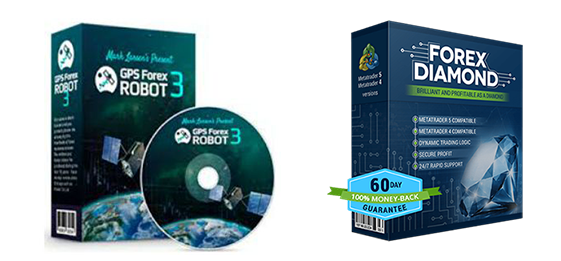 The other EA we rate very highly at Axcess FX is GPS Forex Robot 3. It is one of the top 20 robots we have identified according to our ranking criteria. Its drawdown is within the parameters of 20% to 40% that is considered safe for an EA, but it is the sheer length of time of 8 years that it has been trading profitably on a verified real trading account that is so impressive.
Unusually for a Forex EA, it has been used by a Wall Street investment firm to trade profitably, and the results are available to view at the GPS official site. It is unusual because most large investment firms have their in-house quants and programmers and rarely use external auto trading software, preferring to develop in-house. Read our detailed review of GPS Forex Robot 3
Develop Your Own Forex Robot
Technically capable traders may consider building out their own forex robot. The advantage of this is developing an automated system based on their own technical trading rules. Demo accounts that use Metatrader allow experimentation with MQL scripts, and after backtesting, it may be possible to develop a capable robot.
A simple example of a robot could be one designed for GBPUSD, where a trader has a strategy for take-profits and stop-losses following a technical break-out. A robot could be programmed with rules to place trades automatically rather than the trader has to make a manual order placement.
Final Takeaway
It is essential to remember that forex trading robots work at their best identifying a narrow set of parameters to which they program. They are a useful addition to a defined trading strategy but should not be used on their own as a stand-alone trading system.
Forex robots have, at times, received bad publicity due to their association with promises of guaranteed profits that have not materialized when used to trade in live markets. If, however, you do your research and undertake your backtesting, there are enough proficient robots out there to make a difference to your trading.
Written by Chris Gillie

Chris Gillie is the founder of Axcess FX, a forex software review and research website. He is a former investment banker who worked in FX Sales on the UBS London trading floor. Chris has been using forex trading software as part of his trading set-up since the late 2000s and the embryonic days of MetaTrader and the MQL coding language.