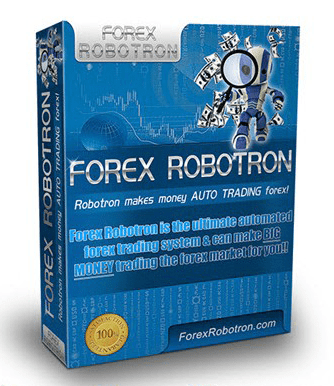 Forex Robotron is a fully automated forex trading robot employing a robust algorithm to identify and then place currency trades in the forex markets without the requirement for any human intervention.
Like many forex robots using the MQL coding language, Forex Robotron allows for seamless integration with the Metatrader platform.
Please read our in-depth Forex Robotron review updated for 2023 that includes current verified performance data to make an informed decision about whether Forex Robotron can add profitability to your forex trading. This review of Forex Robotron should be used in conjunction with all the key facts on the official website.
What Trading Strategy Does Forex Robotron Use?
Forex Robotron is a scalping robot and works best in ranging markets. The algorithm employs a combination of technical analysis and price action to identify trades in a specific timeframe at the end of the US trading session (9 pm until 11 pm GMT) before the switch over to the Asian trading session.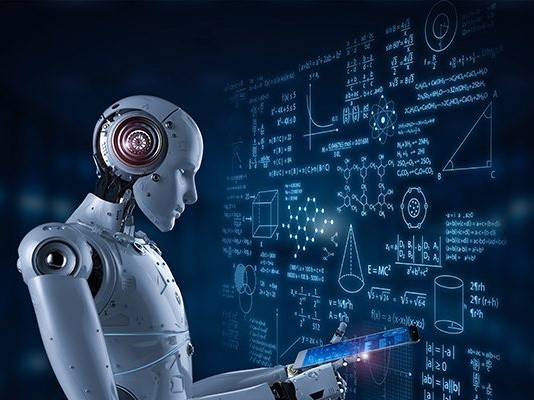 Like all scalpers, using the robot through ECN forex brokers is essential to ensure tight spreads, low commissions and rapid trade execution, so profits are retained and not paid away.
The currency pairs configured with Forex Robotron are EURAUD, EURCAD, EURCHF, EURGBP, EURUSD, USDCAD and all trade using the same settings with a 5-minute chart time frame. Depending on forex market conditions to allow sufficient trades at a high accuracy level, the target is to identify and execute up to 500 trades per year.
Forex Robotron allows you to tweak many settings, including lot size, trading style, and risk percentages. The trading strategies include aggressive, normal, and conservative settings. The set-up allows you to adjust the forex Robot to your preferred trading style and then watch the automated forex trading system proceed to do all the work.
How Good is The Performance?
Forex Robotron is one of the best forex robots for transparent performance with trading results verification across multiple accounts in Myfxbook and substantial backtesting history.
Myfxbook
Data analyzed during our review of Forex Robotron, shows it has substantial performance history with multiple Myfxbook accounts with different trading currency pairs verifying strong performance with the same settings. The chart below from Myfxbook displays verified performance on the developer's trading account with the broker, Pepperstone that uses real money and shows that since July 2019, Forex Robotron has been returning 2.46% monthly with an overall gain of 176%. To see more performance history, Forex Robotron have even more verified performance history on their Myfxbook trading account.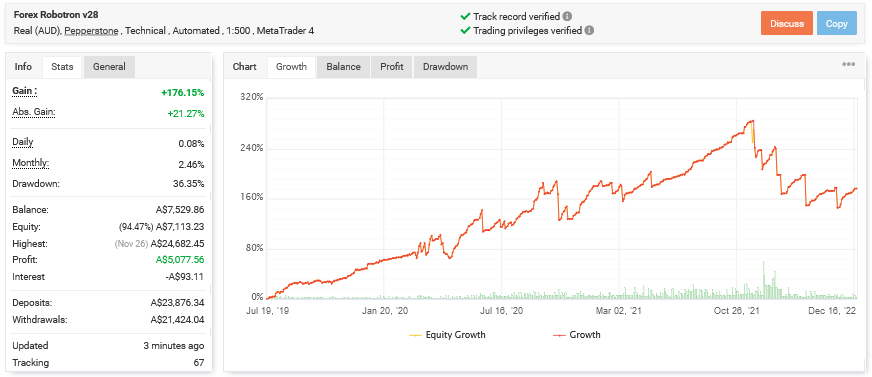 Backtesting
The developer behind Forex Robotron uses real tick data software for its back-tests, and there is a substantial backtesting history of 15 years. A software tool like Birt's Tick Data Suite allows for optimizing and testing a forex robot in a back-test environment ahead of moving to real trading. Parameters can be adjusted to simulate 99.90% market conditions with real tick data, slippage, and variable spreads. The 99.90% modeling quality is shared with other strongly backtested robots like Forex Real Profit EA
.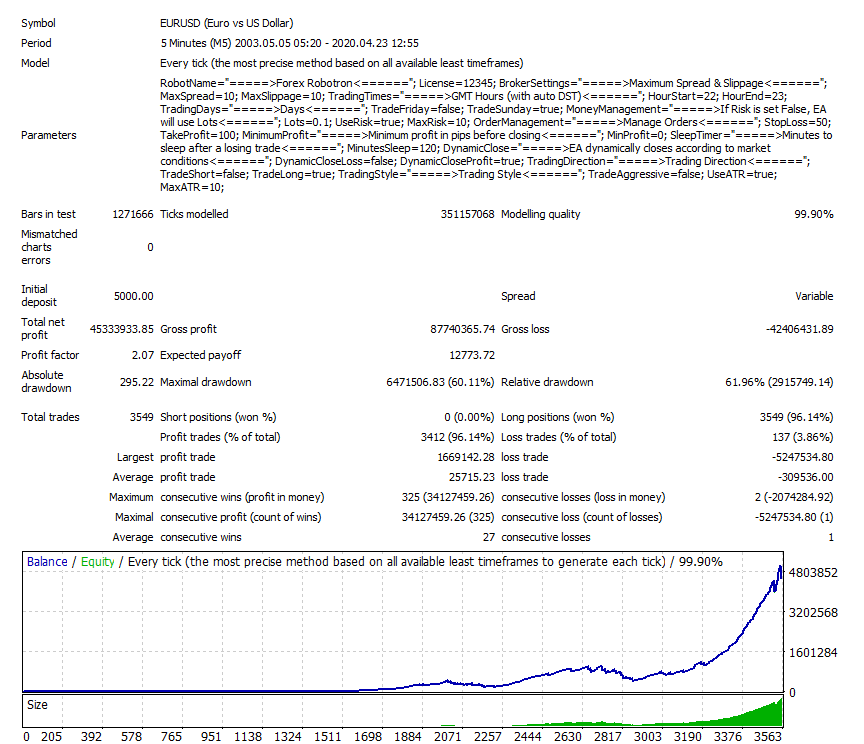 Regarding performance, it should be noted that the software will run with any leverage. Still, for US-based traders, this is limited to 50:1, which is the limit that forex broker platforms must impose on users as part of NFA and CF regulations. The performance and backtesting for Forex Robotron employ leverage of 500:1 to show results.
Watch For Yourself How Forex Robotron Works
After watching this video if you want to find out more about Forex Robotron you can visit the official website which provides substantial information about the Expert Advisor.
Dynamic Features
Not many forex trading robots or forex Expert Advisors can adapt to market conditions, yet Forex Robotron has such a feature coded into its trading algorithm.
The automated forex trading software comes complete with a dynamic close profit and close stop loss feature. When activated, the close loss feature will close a trade as soon as it goes into a loss overriding the default fixed stop loss coded into the forex robot algorithm. Similarly, if activated, the close profit feature will ensure the EA exits a trade when it goes into profit rather than wait for the fixed take-profit to take place.
An Overview of The Key Features
Key features
Moneyback guarantee:
Trading platform:
Automation (Full/Semi):
Strategy:
Installation:
Updates:
30 days
MT4
FULL
Scalper
Download
Lifetime updates included
Purchasing the Forex Robotron
Payment processing and account queries handle through Avangate, a respected provider of services for product providers which offers similar services to competitor digital marketplaces like Clickbank and Clickbetter.
It gives buyers of the software comfort through a money-back guarantee and allows the developers to concentrate on improving the product rather than worrying about billing inquiries.
How Much does Forex Robotron Cost?
Forex Robotron has four different pricing packages with a varying number of licenses for trading both real and demo accounts.
These range from a basic plan offering one trading license and the standard plan offering two trading licenses to the premium plan with an unlimited number of trading licenses.
All pricing plans include unlimited lifetime updates and customer support. We have summarized the different payment plans in the table below.
We think that both the basic and standard package represent the best value; with the standard package many traders find that having access to an additional real account trading license is incredibly useful yet it still keeps the cost of purchasing the robot at an acceptable level.
| Package | Features | Price |
| --- | --- | --- |
| *Basic | 1 Real Account, Unlimited Demo Accounts | Buy Now for $99 |
| Pro | 2 Real Accounts, Unlimited Demo Accounts | $149 |
| Premium | Unlimited Real Accounts, Unlimited Demo Accounts | $199 |
*Best value package
Setting Up Forex Robotron
To operate Forex Robotron, you need to have the MetaTrader platform installed, which is required to run the robot. A live or demo account needs to be active with an online broker to allow the Metatrader download.
Forex Robotron needs to be attached to charts within MetaTrader 4, and as previously mentioned, there are six currency pairs that the robot configures to trade.
There are several available settings to adjust if you do not want to use the default settings for your currency pair setup. Full set up instructions come with the Forex Robotron to ensure the user configures correctly.
Trader Feedback
Reviews are generally positive for the Forex Robotron. Traders on forums and other community sources advise that they can trade profitably with Forex Robotron, but it is vital to employ an ECN broker with tight spreads.
Summary and Our Forex Robotron EA Review Rating
We give a Forex Robotron review rating of 4 ½ stars out of 5, one of the best forex trading software reviews we have given any product. We are impressed with three key areas which are:
A strong performance captured over a long period of time
An overwhelming number of positive Forex Robotron reviews from traders compared to any negative sentiment of the FX robot
Customer payments handle through Avangate providing a money-back guarantee for buyers of the software
Forex Robotron is an expensive robot compared to other automated trading products out there. Still, with all the transparency, including performance, we believe it is a premium that is worth paying.
| Area Reviewed | Star Rating |
| --- | --- |
| Customer Support | 5.0 |
| Price | 4.0 |
| Performance | 5.0 |
| Usability | 4.0 |
| Full Review Rating Score | 4.5 |
If you would like to read further about high performing forex robots we have written a number of forex robot reviews including WallStreet Forex Robot 3.0 Domination.
Written by Chris Gillie

Chris Gillie is the founder of Axcess FX, a forex software review and research website. He is a former investment banker who worked in FX Sales on the UBS London trading floor. Chris has been using forex trading software as part of his trading set-up since the late 2000s and the embryonic days of MetaTrader and the MQL coding language.