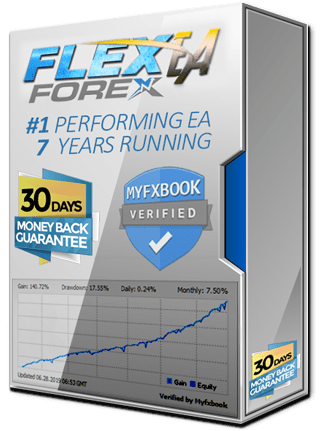 Forex Flex EA is a sophisticated, fully automated Forex Robot with over five years of verified real live account performance recorded by MYfxBook on the Developer's main trading account. Not only has the track record been verified but also the trading privileges.
Despite its complex algorithms with hundreds of unique settings for experienced traders to tweak, Forex Flex is also a plug and play EA allowing inexperienced traders to select a strategy from a menu, attach it to a currency chart and start trading.
Our Forex Flex EA review fully updated for 2023 serves to provide you with a detailed insight into all aspects of the robot, from strategies and performance to set up and trader feedback.
In conjunction with the full facts available on the official website, the aim of our Forex Flex EA Review is to give you all the data to make an informed decision if this forex robot can help you to trade profitably.
What Strategy Does Forex Flex EA Employ?
Forex Flex EA offers 12 selectable trading strategies to employ on almost any currency pair configurable with a currency chart in MT4. In the set-up instructions, once purchased, the Developer also provides a list of currency pairs that work exceptionally well with the robot, including major currency crosses such as USDJPY, EURUSD, GBPUSD, EURCHF, AUDUSD, and EURGBP.
The algorithms' actual mechanics making up the strategies are not made abundantly clear by the Developer, a stance taken by many programmers who want to maintain an edge by ensuring that their forex robots are not exposed detrimentally for whatever reason.
What we can decipher by looking closely at all the Flex EA strategies recorded in MyfxBook is that they predominantly involve longer-term position taking with the average trade length being between 1 and 12 days with an average profit and loss of up to 40 pips per trade. It is undoubtedly not the footprint of a scalping robot.
Drawdown is also generally within an acceptable range of 25% to 45% on most strategies, which indicates that they are not higher risk out of the box and certainly not part of a Martingale system.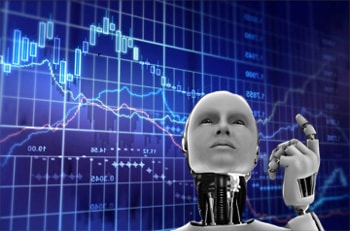 How Well Does It Perform?
Forex Flex operates multiple trading systems with names half revealing their intention, such as FlexHybrid Progressive, Trendsurfer, and Half-Grid. When considering performance as part of this Forex Flex EA review we look at both verified live trading results and also back testing.
Live trading results
All 12 programs appear profitable. Although most have real account verification, which is always our focus, a couple does show demo only verification status, which is less reliable as a confirmation of performance.

Here, we are going to focus on the Flex EA Global DE strategy. This particular strategy has been running continuously since June 2020 in a real trade environment turning an initial deposit of USD 15,521 into USD 33,734 with the algorithm showing a similar number of positions won either from a long or short position. The monthly profit, which is a better way to see long term performance beyond an overall gain (319%), shows an impressive 4.76% average return. The profit factor at 1.28 confirms it is profitable (1.00 and above demonstrates profitability). The average trade length of 1 day and the infrequency of trades (575 in 2 and a half years years) on this strategy indicates that position trading is the focus, not scalping.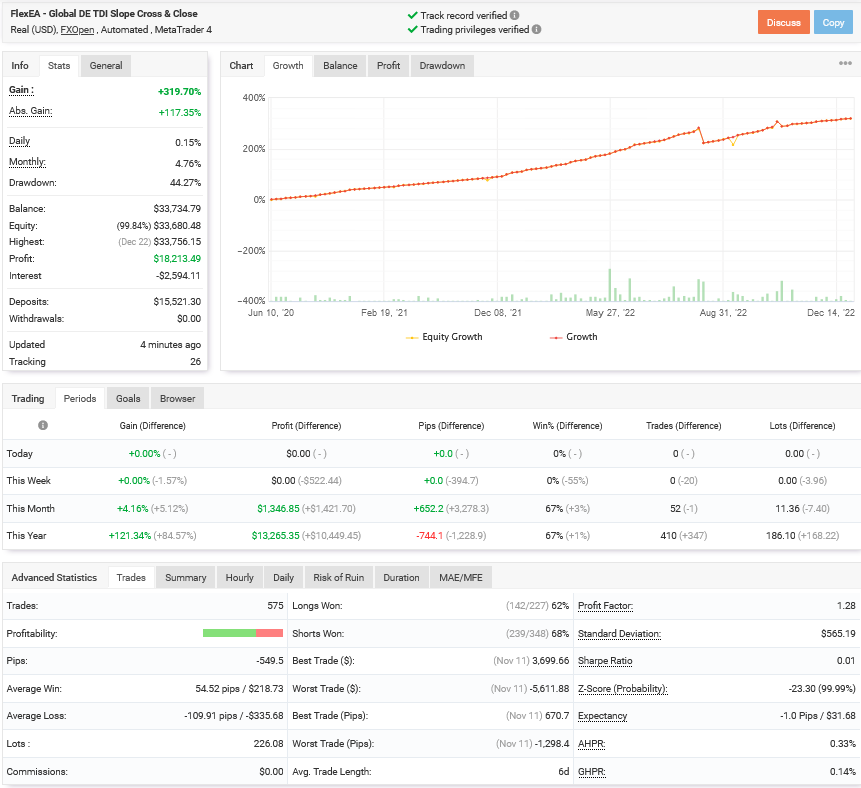 Performance from back testing
As well as verified performance in a live trading environment, Forex Flex EA also provides 99% modeling in its backtests. As we highlight extensively in our best forex robots guide, 99% modeling cannot be achieved using the standard MetaTrader strategy tester, which is only reliable up to 90% modeling. We value robot performance that uses back testing with individual tick data from sources like DukasCopy and interpreted with a tool like Birt's Tick Data Suite. We applaud the Flex EA team for going this extra mile.
Forex Flex EA Video Insight
An excellent video providing both trader insight and feedback on the sophisticated forex robot.
After watching this video, and reading our Forex Flex EA Review, if you want to find out the full details on Forex Flex EA you can visit the official website.
Key Features
Forex Flex EA comes with a host of features which include:
12 Different programs to select from
Full access to a private members-only forum
Compatible with all brokers using the MT4 trading platform
Lifetime free updates via an automated update system
A robust built-in money management system
Flex EA is compatible with all currency pairs
Innovative virtual trades technology for a more accurate entry point
24/7 trader support
How Much Does Forex Flex EA Cost?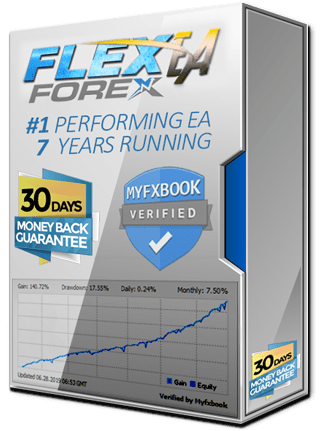 The Expert Advisor is available in two versions, Flex EA, and Flex EA X 2
Both versions have unlimited Demo Accounts, full access to the Expert Advisor's private forum, and come with all the programs included in a downloadable file.
The X 2 version comes with two live accounts to the standard version's single live account and gives access to an additional algorithm called Correlated Hedge EA.

If you do find that the forex EA is not for you, as part of its refund policy, the forex robot comes with a 30 day money back guarantee.
The cost of both versions is highlighted in the table below.
| Version | Cost |
| --- | --- |
| Flex EA | $330 |
| Flex EA x 2 | $495 |
Setting Up Forex Flex EA
As with most Forex Robots built using the MQL language, integration with MetaTrader is straight forward. Forex Flex have an official set up video that walks you through how to set up the robot from scratch in less than five minutes, which you can view below.
Simple To Set Up
The 12 different strategies come with default settings with the set up so straightforward that you plug in and play.
Forex Flex EA also has a vast number of settings available across the 12 different algorithms. Optimized set files can be downloaded from the members' area and take the robot's built-in algorithms a stage, further providing an array of options in each of the programs to suit your trading system. It means that you do not need to spend time tweaking the forex robot settings to discover how a forex robot can improve your winning odds.
The full details are also available at the official website, but the most critical settings and trade parameters include the following:
Drawdown stop loss is a setting that allows automatic trade closure when drawdown reaches a certain percentage.
A money management system where lot size is adjusted automatically based on your trade account balance
Built-in currency filters limit exposure to a particular currency if you are trading multiple Flex algorithms simultaneously.
Session filters allow you to choose which sessions or days that you would like to include or avoid
An equity trailing take profit feature allows half the profit to be locked in whilst still having the ability to further benefit from the upside
Key Indicators such as Bollinger Bands, Stochastic, Momentum, and RSI can be turned on or off independently to personalize settings to align closely to your trading system
A news filter allows you to turn trade placement on or off around major news that is due to come out
Trader Feedback
An extensive amount of trader feedback online is available for Forex Flex EA, more than we have seen for any other robot even top performers like GPS Forex Robot 3 across forums and dedicated forex review sites like FPA.
There is much reference to how profitable and powerful the Expert Advisor is with so many settings available across the different trading programs to fully customize the robot to trade according to your trading style and market conditions. Although it is plug-in and play, feedback references that to get the best out of the robot it is also helpful to have a good understanding of forex mechanisms.
Consistent feedback refers to trader support being both thorough and fast. The Lead Developer, Steve is fully involved in providing a high customer service level to the Forex Flex EA robot users.
Praise is also given to the forum and how helpful it is with many active and dedicated members of the Flex community willing to help with settings and solve issues.
Final Thoughts and Review Rating
Over the course of our Forex Flex EA review we have found it to be a complex and high performing robot. Employing 12 algorithms and a myriad of settings for additional tweaking is impressive yet offering these settings as part of a plug and play system makes it accessible to less experienced traders too.
We also like the team's progressive attitude behind the software: There is a dedicated forum that is busy with the programmers proactively communicating with community members. The Development team is also pro-active on external review sites replying to reviews in a constructive way explaining the Developer's viewpoint.
Customer support is available 24/7 by email with the team at Flex EA, aiming to reply within a few hours of receipt and confirmed by online trader feedback. It is considerably better than the 24/5 customer service offered by most other robot providers.
Our Forex Flex EA review rating is 4.5 stars out of 5. It is one of the best forex robots we have reviewed and a breakdown of our ranking results is set out in the table below.
| Area Reviewed | Star Rating |
| --- | --- |
| Performance | 4.5 |
| Price | 4.0 |
| Customer Support | 5.0 |
| Set Up | 4.5 |
| Axcess FX Rating | 4.5 |
Written by Chris Gillie

Chris Gillie is the founder of Axcess FX, a forex software review and research website. He is a former investment banker who worked in FX Sales on the UBS London trading floor. Chris has been using forex trading software as part of his trading set-up since the late 2000s and the embryonic days of MetaTrader and the MQL coding language.