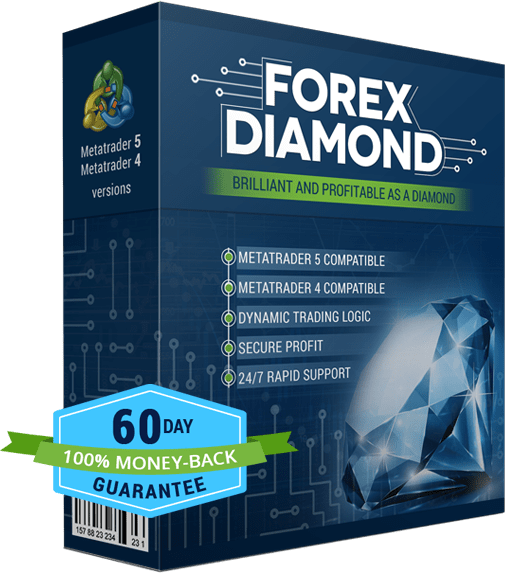 Forex Diamond is a Forex Robot that has been around a long time having been launched on the market over ten years ago.
It has built up a proven and verified foreign exchange trading results track record, including live accounts that are available to view as well as a significant backtesting history that can also be viewed.
Incorporating complex algorithms, Forex Diamond EA continuously analyses significant numbers of signals and re-adjusting calculations to create a very adept and dynamic Expert Advisor.
Here at Axcess FX, our Forex Diamond EA review aims to provide in-depth research all in one place so you can see if the Expert Advisor can help you trade profitably. This detailed Forex Diamond EA review, fully updated for 2022 should be used as a complement to the key facts at the Forex Diamond official website.
What is the Forex Diamond Trading Strategy?
Forex Diamond sets up to support the trading of four currency pairs: USDJPY, USDCHF, GBPUSD, and EURUSD. It works on a 15-minute chart timeframe and works best with brokers that offer low spreads by employing ECN trade placement and execution.
The software is programmed using dynamic trading algorithms with the robot calculating trading parameters based on real-time calculations allowing it to adapt to current market conditions. It includes vital parameters such as take profit and stop loss levels that are dynamically calculated and managed on an ongoing basis. It is a significant step up from the limitations of many forex EA robots that just trade rangebound markets.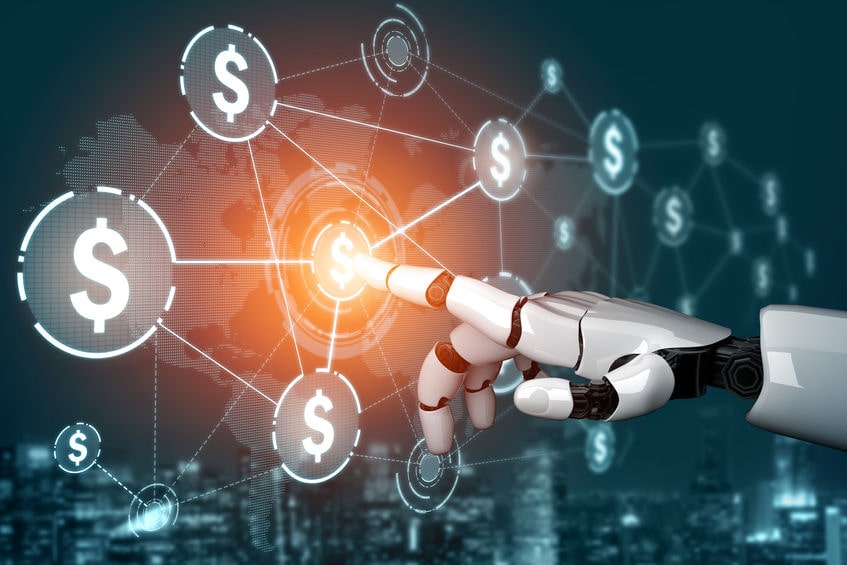 The algorithm employs three separate signal strategies: Trend Retrace Signal Strategy, Countertrend, and Countertrend Scalping. Forex traders can choose whether to apply just one of the signal strategies or all three at the same time by configuring the robot settings.
Signal Strategy
Forex Diamond EA employs signals coded in its algorithm to profit from strong market trends.
Countertrend Strategy
The EA scans the forex market for potential trend reversal trades according to signals that indicate the highest chance of profitable trading opportunities.
Scalping Strategy
The scalping strategy is for high-frequency trading and employed to make small profits on scalping trades. Forex Diamond scalps both volatile and rangebound markets.
Further information about the trading strategy employed by Forex Diamond is available at the Expert Advisor's official website.

Performance Overview
Myfxbook performance
Forex Diamond has verified forex trading accounts for both live and demo trading on respected foreign exchange audit site Myfxbook. It is not clear whether the verified performance takes into account slippage, real spreads, or commissions; nonetheless, the accounts, all with different currency pairs, indicate positive gains over a multi-year period with low drawdown levels. Drawdown is just 21% on their main real money verified account as seen in the below chart.
Metatrader Strategy Tester performance
Over the course of our research for this Forex Diamond EA Review we found that backtesting of the this forex robot goes back even further with over 19 years of backtests in Metatrader Strategy Tester reflecting positive performance. It would perhaps have been nice to see a tick data tool used that analyzes performance based on historical real prices recorded and is 99% accurate. Metatrader Strategy Tester records prices less accurately by using bar data and not prices traded tick by tick. It results in no more than 90% accuracy and can affect the historical performance of robots that employ scalping strategies.

Forex Diamond: Watch How it Works
If you are interested in finding out more about Forex Diamond after watching this video and reading our full Forex Diamond EA review please visit the robot's official website
Key Features of the Forex Diamond
Dynamic trading system for any market conditions
Three different forex trading strategies
Unlimited demo accounts
Trade from any computer
Free lifetime updates
Spread and slippage protection
Profit protection
Self-adjusting money management
Responsive 24/7 help desk support
Quick strategy guide
Member access area including tutorials
60-day money-back refund policy
Fully compatible with MT4 and MT5
Fully compatible with Windows and MAC OS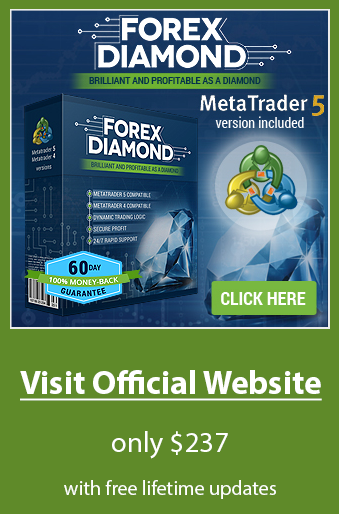 Buying Forex Diamond
Forex Diamond EA is purchased through the digital marketplace retailer, Clickbank. For purchasers of the software, buying a product through Clickbank is significantly better than buying directly from software developers.
Clickbank provides a 60-day money-back guarantee on all digital product purchases through its platform.
The developers of Forex Diamond are also a platinum level partner on Clickbank. Platinum status should provide comfort that Forex Diamond is a widely purchased EA, but it is a trusted product with a low refund rate.
The cost to purchase Forex Diamond EA is a one-off fee of $237. Following sign-up, the purchase package includes:
Software File Download
Lifetime updates
Detailed operating instructions
Access to a members-only area with tutorials and other forex educational resources
How To Set-Up The EA Robot
Forex Diamond Expert Advisor works with all forex brokers using MT4 and MetaTrader 5 trading platforms, which needs to be set up on your computer before Forex Diamond software can install.
Installing and activating
When installing MetaTrader 4, a Demo Trading account can also activate, which is useful for the EA installation. Forex Diamond should be installed in the same folder as MetaTrader 4 on your computer.
To activate Forex Diamond for both live trading and demo account trading, you need to log in to the member zone and find the account activation page.
Even if you intend to backtest the robot, the accounts do still need activation
Once Forex Diamond installs, open up your MetaTrader trading platform and the graphs you would like to trade on a 15-minute chart. Attach Forex Diamond to the chart and once activated a smiley face appears
Settings
The Forex Diamond EA has both general and expert settings that can be adjusted from the default 'out of the box' parameters to optimize the EA to align closer to your style of trading forex.
Standard settings include adjusting maximum spreads and slippage, setting the maximum number of permitted open trades, and activating a recovery mode, an algorithm in expert advisors compensating for any account drawdown by increasing the trading volumes.
Expert settings include the activation of a four-pip take profit feature, whereas the standard-setting follows the EA's built-in algorithm to close profitable trades. A reverse profit feature and an extra pip signal setting are also trading parameter configurations that can be activated.
An auto money management setting is also available to move the default trade size of between 0.5%/1.5% of your capital account up to 5% per transaction if required.
Backtesting
Forex Diamond EA can backtest in MetaTrader by using the trading strategy tester function. It is an essential function if you want to test a specific set of Forex Diamond parameters before trading either on a demo account or a live account with real money.
Review Summary
Forex Diamond is a sophisticated Expert Advisor, and following our full Forex Diamond EA review we give it a rating it at 4.1 out of 5 stars based on several criteria.
Customer support is available on a 24/7 basis, far beyond the 24/5 support for software providers of most forex robots. Further, Forex Diamond advises they will respond within an hour of receiving an inquiry. The robot costs $237 which is at the higher end of the one-off purchasing rang; however, the original robot is over ten years old and development is continually ongoing. We think the robot is correctly priced.
To remain profitable, the developers are updating and improving it continually, which may not be the case with a $97 product. Installation is straightforward, but it isn't easy due to a myriad of parameters available with one of the best forex robot packages. Performance is strong and is verified by both real and demo trading accounts over a long period.
| Area Reviewed | Star Rating |
| --- | --- |
| Customer Support | 5.0 |
| Price | 4.0 |
| Performance | 4.0 |
| Set-Up | 3.5 |
| Axcess FX Rating | 4.1 |
Written by Chris Gillie

Chris Gillie is the founder of Axcess FX, a forex software review and research website. He is a former investment banker who worked in FX Sales on the UBS London trading floor. Chris has been using forex trading software as part of his trading set-up since the late 2000s and the embryonic days of MetaTrader and the MQL coding language.