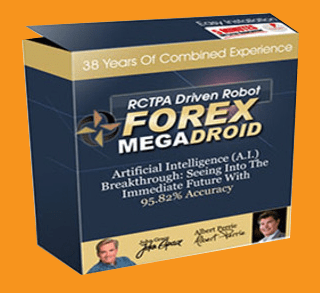 Forex Megadroid is a fully automated forex trading robot utilizing AI technology.
The robot developer claims the forex robot will forecast with 95% accuracy by optimizing the correct time to enter the forex market.
Please read this comprehensive review to understand how the robot works, the strategy employed, performance and trader feedback. In addition to this review, additional information is also available at the robot's official site where you can further learn how Forex Megadroid can help with your trading.
How does Forex Megadroid work?
The software uses artificial intelligence and an advanced set of algorithms called Reverse Correlated Time and Price Analysis or RCTPA technology, which helps determine the market trend.
Specifically, the algorithm looks at trends that are the most likely to result in a profit by looking at specific timeframes that will take place over the next 2-4 hours. Whereas most robots look at past data to place trades, the Megadroid looks at future data to place trades.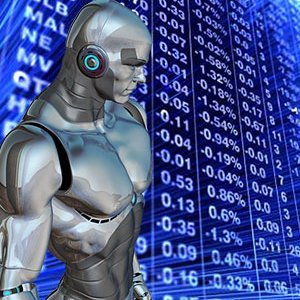 What strategy does it employ?
The Megadroid is a scalping robot that trades EURUSD targeting small profits on each trade to provide its user with a 20% profit every month. To maximize profits, it requires low bid/offer spreads, small commissions, and rapid execution.
Using an ECN broker to achieve these low cost and fast execution times is essential to get the best out of Forex Megadroid as it is with other scalping automated trading systems.
Forex Megadroid only trades EURUSD as it is a very liquid and a relatively stable currency pair. More volatile currency pairs would be less effective with the robot's strategy of employing fixed stops rather than trailing stop losses.
Even with EURUSD, spikes in volatility may require risk setting adjustments to avoid potentially winning trades getting stopped out.

Most forex robots tend to have their best results over short time frames in optimal forex markets. The developers of Forex Megadroid claim it works profitably for EURUSD under any market environments and conditions, so this means in both a trending and ranging foreign exchange market.
They advise that it can configure short and long-term strategies and settings can be adjusted based on your forex trading system. To find out more or purchase the Megadroid, visit the official website here
How good is the performance?
The Expert Advisor was first developed in July 2007 as an algorithmic forex trading software program by its developers, two forex traders, John Grace and Albert Perrie. It was publicly launched as a product for other traders in February 2010, since when there has been continuous performance data.
Cumulative performance from 2009 to the end of 2022 as we are updating this review is over 15,400%. The performance is impressive, but do note that these performance results listed on the official website are from backtesting and do not include real live account bid-offer spreads, commission, or tick data. As Megadroid is a scalper, any deviance from low commissions and spreads can dramatically alter performance.
If you would like to find out more after watching this video please visit the Forex Megadroid official website
A review of the pros and cons of using Forex Megadroid
Advantages that can be of benefit to a trader using Megadroid include: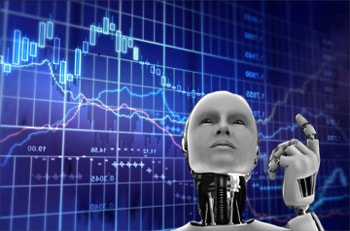 The software provides the trader with settings that can adjust risk tolerance from perceived lower risk to high-risk levels, including stop-loss settings and automatic money management.
The Forex Megadroid is straightforward to install, and installation takes less than 10 minutes with the provided set up instruction and pre-set files.
Unlike much forex trading software, Forex Megadroid does not need any other external software installations to aid in its work as its package already has everything required.
The software has shown to be reliable over time with the Megadroid over 11 years old.
There are two disadvantages of the Forex Megadroid:
The software can get a touch slow during automated forex trading.
The Forex Megadroid is designed as a plug and play robot to cater to both beginner and experienced traders. The reality is, as with most forex robots, it is better to use the EA as part of a broader trading strategy, typically associated with more seasoned traders.
Key features and cost
Forex Megadroid has a host of features and a low starting cost without the hidden monthly fees of some forex software products. Here are the main features:
One-off purchase of $67
60-day moneyback guarantee by Clickbank
Free lifetime updates
Fully automated software
Compatible with MetaTrader 4
One license included
Full customer support
Stealth mode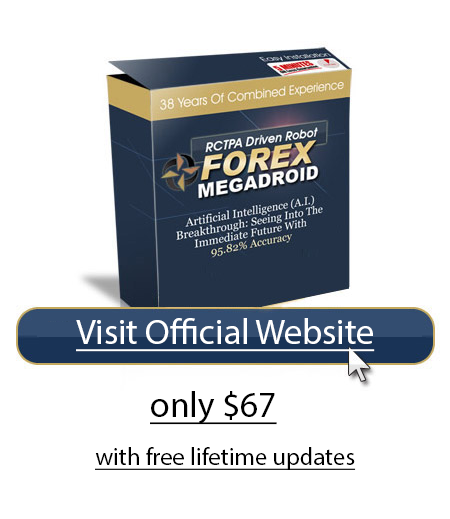 Purchasing the Megadroid
The Megadroid is available to purchase using the services of Clickbank, the well-known platform that provides a product marketplace and secure payment processing.
For buyers, Clickbank delivers comfort in the form of a moneyback guarantee which is for a full 60 days.
Such a money-back guarantee would be less forthcoming if the robot was purchased directly from the EAs developers.
Clickbank further provides the percentage of refunds requested by customers for a product, providing buyers with useful verification if a forex robot is working well with a low refund rate preferable.
Payment for the Megadroid can be with either a credit card or via Paypal at the developer's website with checkout and processing provided by Clickbank.
Setting up the Forex Megadroid
Forex Megadroid is straightforward to install with the provided set up instruction, and pre-set files and installation takes less than 10 minutes. It works with online forex brokers that offer the MetaTrader 4 trading platform to traders.
As the robot only trades EUR USD, the settings are less complicated than for other FX robots, but you should be aware of different parameters:
The default parameters on the Megadroid are a risk level of 10% and a medium aggressiveness setting.
The risk level setting controls where your stop losses are positioned. The aggressiveness setting relates to how many trades you want the robot to place on the forex market. The default settings adhere to the golden forex trader ration of 3:1 risk-reward.
Users of the robot users tend to crank up the aggressiveness setting. The default may see the Megadroid place as few one or two trades per week as it is a very conservative robot employing strict criteria to trade placement to increase the chance of profitability.
Lot size settings allow for the adjustment of the size and leverage of the trade placement. Traders can combine the trade size with aggressiveness and risk levels to their specific requirements.
Trader Feedback
A number of online reviews are available from which to gage opinion of traders using the software. MyFXBook, the industry reknowned forex performance verification site, provides a good barometer of sentiment and there are also positive reviews on well-respected review site, Forex Peace Army. If you want to further understand the merits of reading reviews before you purchase forex software we go indepth in our article on the benefits of online forex software reviews.
Positive review feedback revolves around getting decent performance, depending on using online brokerages using low spreads and trading platforms with ECN capability.
Some traders do not use it live; instead, they use it as a semi-automated forex Expert Advisor in a demo account, where they have the final decision on market analysis and whether to place a trade.
Negative review feedback of the Megadroid continually references the software being slow and stop-loss levels being too high when trading forex. Additionally, the software does not generate enough trades on default settings to create enough forex trading account profit.
Summary and review rating
The robot developed by two Forex developers with over forty years of trading experience reflects in the performance and durability of Megadroid. Robots developed by those that understand forex tend to do slightly better than coders with a limited forex knowledge.
Forex Megadroid has gained the trust and confidence of many traders and is one of the currency market's best robots. Along with robust backtested performance, excellent customer support, and lifetime updates, it is one of the more reliable robots on the market in terms of trading performance and overall customer support. For this automated trading software review, we rate it at four stars out of five.
| Area Reviewed | Star Rating |
| --- | --- |
| Customer support | 4.0 |
| Price | 4.0 |
| Performance | 4.0 |
| Usability | 4.0 |
| Full review rating score | 4.0 |
Written by Chris Gillie

Chris Gillie is the founder of Axcess FX, a forex software review and research website. He is a former investment banker who worked in FX Sales on the UBS London trading floor. Chris has been using forex trading software as part of his trading set-up since the late 2000s and the embryonic days of MetaTrader and the MQL coding language.