Forex Megadroid is a trading robot utilizing the latest AI technology, which claims to allow it to forecast with over 95% accuracy in optimizing the correct time to enter the market.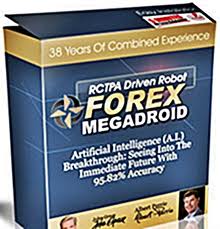 The Megadroid is a scalping robot that targets small profits on each trade. To maximize profits, it requires low bid/offer spreads, low commissions, and rapid execution.
The software uses artificial intelligence, and an advanced set of algorithms called the Reverse Correlated Time and Price Analysis or RCTPA, which helps determine the current market trend based on both past and present market data.
Forex robots tend to have their best results over short time frames in markets that are rangebound. The developers of Forex Megadroid claim it works under any market condition to trade profitably for the user. It can configure for both short and long-term strategies based on your trading system.
Forex Megadroid has gained the trust and confidence of many traders and is one of the market's most popular robots. It is easy to use, and the installation takes less than 10 minutes.
Forex Megadroid: One of the best robots on the market
Unlike any other trading software, it does not need any other external software installations to aid in its work as its package already has everything it needs. It also does not have those hidden monthly fees typical of other software products.
Key features
60-day moneyback guarantee
Free lifetime updates
Fully automated
Compatible with MetaTrader 4
One license included
Full customer support
Summary
An extremely popular robot, the Forex Megadroid is straightforward to install with the provided set up instruction and pre-set files. Along with excellent customer support and lifetime updates, it is one of the more reliable robots on the market in terms of trading performance and overall support.