Forex Real Profit Expert Advisor is a long-established EA that was first available for purchase over ten years ago. Since then, the developers have provided ongoing updates for the robot, ensuring that its algorithms remain effective against ever-changing forex market conditions.

The EA has a proven track record of positive performance documented through verified live trading accounts. Our Forex Real Profit EA review updated for 2023 will cover performance and look at strategy, key features, and set-up. Together with the full facts available on the official website, we want this review of Forex Real Profit EA to provide you with the information to decide whether this Forex Expert Advisor can help you trade profitably.
Trading Strategy Employed
Unlike many Expert Advisors, the developers behind Forex Real Profit Expert Advisor (FRPEA) provide essential information on the official website about the strategies behind the EA. It means that you are not left guessing how this forex robot can be part of your trading system.
FRPEA is, first and foremost, a scalping robot. Six different strategies are available, focusing on scalping the Asian session, although all-day scalping and breakout strategies also include in the suite of algorithms available.
The developer recommends using the Expert Advisor with EURUSD and GBPUSD. Other currency pairs can be used, but backtests need to be undertaken as it is beyond the developer's recommendation scope.
We can confirm the scalping focus of the strategies from analyzing verified real trading accounts as part of the research undertaken for this Forex Real Profit EA review.
The Performance Results Of Forex Real Profit EA
FRPEA has several real money accounts on the performance verification site, MyFXBook. We have analyzed the flagship live account, which has been continuously trading live since 2013. We have also looked at the extensive backtesting undertaken by the developer, which provides further confirmation of the robot's effectiveness.
Verified Live trading performance

With ongoing trading on a real money trading account since June 2013, the robot continues to trade profitably. A profit factor of 1.13 confirms a profitable strategy (A PF of 1.00 and above confirms a strategy makes money).
An average trade length of 3 hours 45 minutes and an average win of 13 pips per trade confirm the short term, small profit focus of the scalping algorithms coded into the EA.
Drawdown is low at 27%, representing the effective way risk management deploys in this Expert Advisor. A monthly profit of 1.51% and an overall gain of over 468% since inception is steady but reliable, combined with a low drawdown which implies low risk.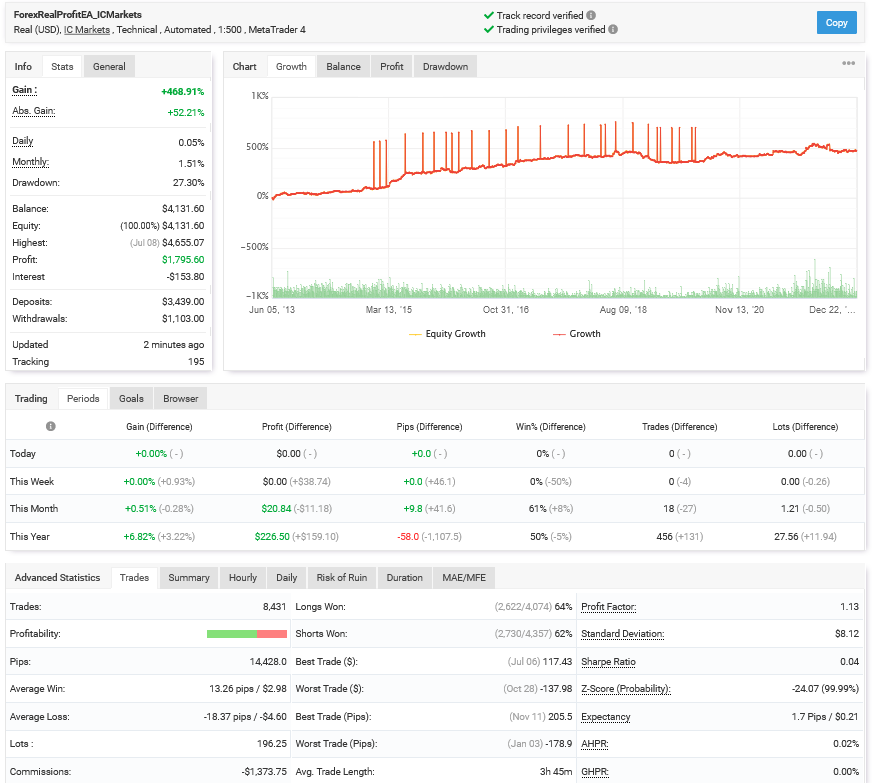 The verified trading accounts are through Dukascopy, the Swiss forex broker. Dukascopy is known for its detailed performance data that also serves for backtesting using a modeling quality of 99.90% when interpreted through a data suite tool such as Birts.
Performance from backtesting
The fact that the developers of FRPEA have employed 99.90% modeling quality in their backtesting using data from Dukascopy is impressive. It provides us with confidence that the robot has been rigorously tested, which is a trait of only the best forex robots like Forex Robotron also at 99.90% modeling quality.
The screenshot confirms 99.90% modeling, which takes account of every tick, unlike the Metatrader strategy tester, which is only 90% accurate as random bar data and not tick data are used. When backtesting a scalping strategy with small profit margins, 90% modeling is too inaccurate and not fit for purpose.
Backtesting, the primary strategy goes back to 2003 and, using with Dukascopy data, appears robust and reinforces the ongoing profitable trading seen in the real account trading data.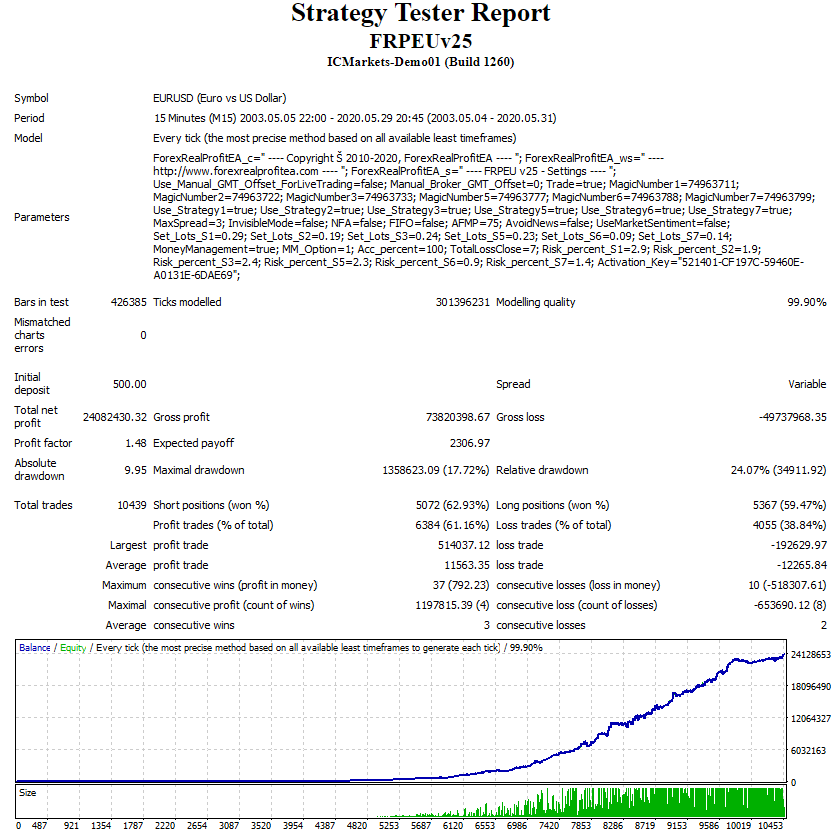 Updates
For us, what is hugely positive is the number of ongoing updates provided by the developers of Forex Real Profit EA.
The developer has a forum on which they share all the updates. Please see the screenshot below, which should give you confidence that the robot is being continuously refined and adapted to stay both profitable and relevant. More information is also available at the official website.

From our viewpoint, and confirmed during analysis we undertook as part of this review, the number of updates justifies paying for Forex Real Profit EA on a subscription basis. We believe a growing number of developers will move to the subscription model instead of a one-off upfront payment with free lifetime updates. Regular payments help the developer budget for the robot's ongoing development and should be seen positively.
Key Features
The key features that we feel need highlighting during this review of Forex Real Profit EA are the following:
Six different strategies available
Compatible with any MT4 Broker, including ECN
Dynamic stop loss and take profit feature
Safety features including automatic lot size adjustment
Trade size includes micro-lots
Considerable slippage and spread protection feature
Full NFA compliance filter including FIFO and no hedging
The dynamic lot size feature
High impact news filter
Total loss of close feature
Money management parameters with lot sizing
Invisible Mode
Forum and Community
Forex Real Profit EA has a forum available to members. When we review EAs, we look at an active forum as a positive indicator from both the users and the developer who listens and sometimes acts upon user feedback if it can improve the EA.
We would not call the threads extensive or overly active from users, but we see impressive input from the developers; whether it is answering trading questions, user support, or providing software updates, the detail level is comprehensive. See the below screenshot providing an example of the detail: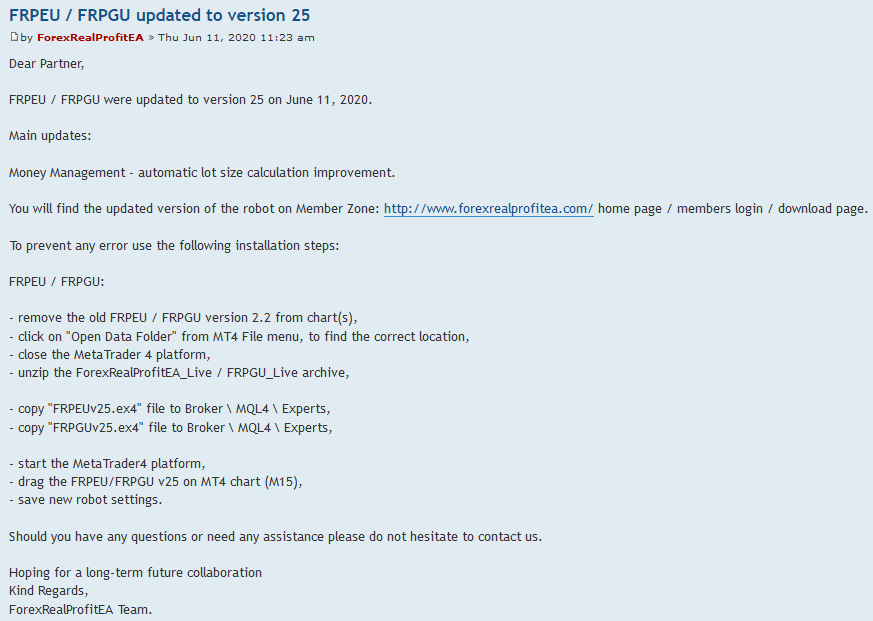 Buying Forex Real Profit EA

Forex Real Profit EA is available to buy on a subscription basis for $199 a year.
Broken down, it works out at just $16.50 a month for which you receive a forex robot that is proven to be profitable and continuously calibrated by its developers.

A refund policy via a 60-day money-back guarantee is available, which provides more than enough time to see if the EA can help you trade profitably. The money-back-guarantee is backed by Click2Sell, the respected digital marketplace that handles all the robot administration. It means that you will get your refund if requested.
Set Up
Once purchased, Forex Real Profit EA comes with full installation instructions, including installing and configuring the MetaTrader 4 platform correctly on your PC.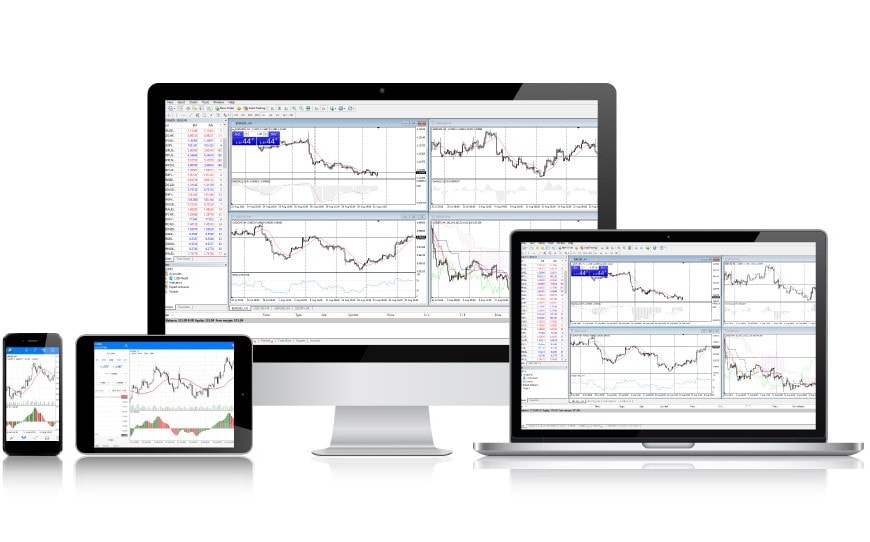 As with most robots developed with the Metaquotes MQL coding language, Forex Real Profit EA works with any broker offering the MetaTrader 4 platform.
Once MetaTrader is installed, the EA needs installation. It is done by logging into your member account, going to the download section, clicking on the robot set up file, and following the installation wizard.
Once the installation is complete, you need to configure the robot to trade by attaching it to an M15 timeframe on the relevant currency chart you wish to trade.
Although the robot is ready to trade out of the box with no human intervention, several different parameters exist, which we highlighted under key features that can be set to tailor the robot to your strategy or trading systems.
Trader Feedback
Very little trader feedback is available online about Forex Real Profit EA either from authority sites such as Forex Peace Army or on forex trading forums like MQL5.
Summary and Forex Real Profit EA Review Rating
Our 2023 review of Forex Real Profit EA reveals that it is a well-maintained Expert Advisor. The developers are continuously updating the trading robot for the benefit of the users. Such a proactive approach is made possible by the subscription model, which provides regular funding to re-invest in software development.
User support seems robust with comprehensive updates from the developer, which indicates good communication.
Trading results are consistent with steady but not spectacular monthly gains achieved with low drawdown levels, which we like.
Following analysis, our Forex Real Profit EA review rating is 4.5 out of 5 stars.
| Area Reviewed | Star Rating |
| --- | --- |
| Performance | 4.5 |
| Price | 4.5 |
| Customer Support | 5.0 |
| Set Up | 4.0 |
| Axcess FX Rating | 4.5 |
Written by Chris Gillie

Chris Gillie is the founder of Axcess FX, a forex software review and research website. He is a former investment banker who worked in FX Sales on the UBS London trading floor. Chris has been using forex trading software as part of his trading set-up since the late 2000s and the embryonic days of MetaTrader and the MQL coding language.