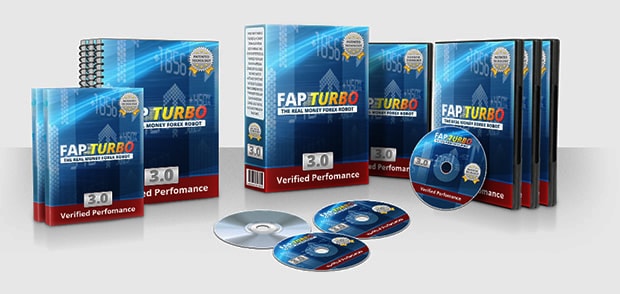 The FAP Turbo 3 is the most up to date version of the Forex Auto Pilot (FAP) series of forex robots. It follows on from the original FAP and FAP Turbo 2. The FAP Turbo 3 is another of our robot reviews (updated for 2023) where we will look at the strategy employed, evaluate performance and look at trader feedback.
Our review, together with the full facts at the official website will help you decide whether FAP Turbo Version 3.0 can help you trade profitably.
History
The FAP Turbo has been around for over ten years, with the original FAP launched in November 2008. It was developed by a team of professional forex traders and programmers and is one of the earliest forex robots made commercially available for purchase. FAP Turbo 2.0 followed, and we are now on the current version 3.0. FAP 3 which has over 85,000 worldwide users.
The FAP is a fully automated forex trading robot meaning that both identifying and placing trades are done automatically. It differs from semi-automatic trading software where the decision whether to place an identified winning trade remains with the human trader. FAP Turbo 3.0 runs on the MetaTrader trading platform.
What Trading Strategy Does The Fap Turbo 3 Use?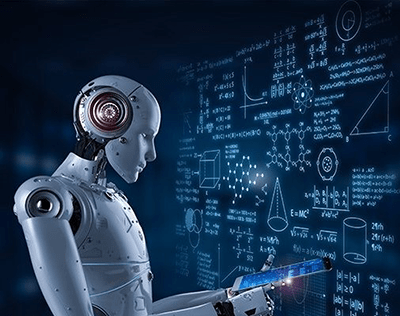 The FAP Turbo 3.0 provides users with two different forex trading strategies available in separate trading modes. The legacy scalper strategy from previous FAP models is still available and is known as Scalper Mode. Version 3 now includes the new Medium-Term Strategy (MTS mode) algorithm. The aim of FAP Turbo 3.0 is to move away from scalping to medium-term trading.
Scalper Mode
The Scalper trades more frequently than the MTS mode, and like many forex robots, the legacy scalper works best in rangebound conditions. The developers have built the Scalper algorithm to trade the night session in the cross over between the US and Asian trading sessions, which is known to be a quieter trading session.
The Scalper targets opening between 1 and 5 trades targeting small take profits on each trade. Algorithms uses a specific 15-minute chart timeframe, indicators, and filters to create trade signals. Signals include RSI, MA, and also volatility filters and opening time filters.
The Scalper is programmed to trade eight currency pairs in the same way, including EURUSD, GBPUSD, USDCHF, GBPCHF, EURCHF, and USDCAD.
MTS Mode
The MTS strategy opens trades during the day employing different trade timings for different currency pairs. The MTS does not tie to specific chart time frames like the Scalper. The MTS algorithm is continuously monitoring the markets and will open trades only when its internal indicators identify conditions that indicate a high probability of success. The aim is to trade profitably and not to open trades up in conditions that are not optimal. It employs more substantial take profits and stop-losses of between 20 and 100 pips.

The Expert Advisor works right out of the box with default parameters; however, these can be substantially altered to align closer to a trader's required risk and leverage levels. More information about strategy and settings are available at the FAP Turbo site
How Good Is The Performance?
The developers of FAP Turbo 3.0 provide performance backtesting using the MetaTrader strategy tester. Below are the performance results from over six years employing the Medium-Term Strategy across the eight currency pairs the forex robot is programmed to trade. The performance does not take live account spreads, slippage, commissions, or live tick data. Furthermore the modelling quality is only at 90%. Best practice back-testing using a tool like Birt's tick data suite can get modelling accuracy up to 99%. For scalping strategies, not testing at 99% can make a seemingly profitable strategy unprofitable. The below results appea impressive at 90% we would hope this is also the case at 99% where every tick is taken into account.
Performance Results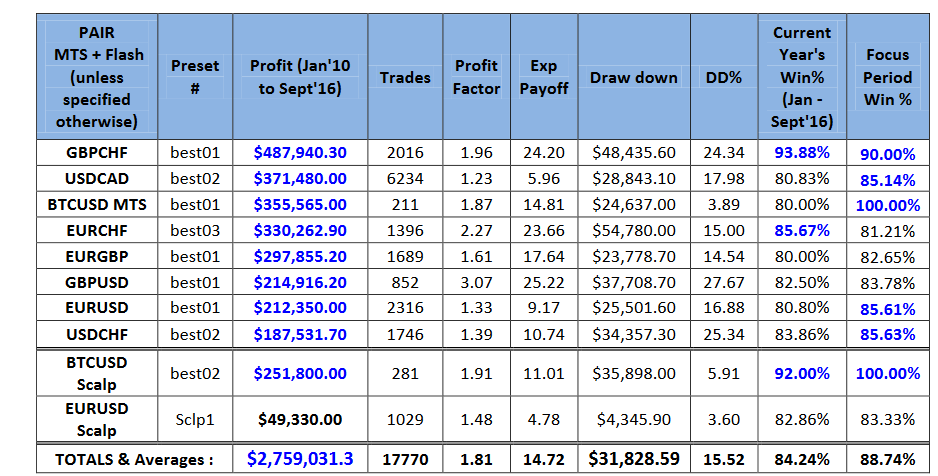 Find Out How The Fap Turbo 3 Works in 3 minutes
If you have found this video useful and need more information about FAP Turbo 3 you can visit the official website.
Setting Up FAP Turbo 3.0
Implementation
The FAP Turbo 3.0 can be set up with any MT4 Broker. Once purchased, the product comes as a .ex4 downloadable file, a script for MetaTrader, and can only run in MetaTrader 4 software. Therefore, MetaTrader must be already set up on your computer for the EA to operate smoothly at an optimal level.
Once the Robot successfully activates, it needs attaching to the relevant chart from where it will analyze the Foreign Exchange market and trade automatically on your behalf 24/5 as long as your computer is always on; otherwise, you can still use a VPS for continuous robot trading.
Trade settings
FAP Turbo 3 allows you to choose to either run with the default recommended Scalper or MTS settings or tweak the parameters to align closer to your forex trading strategy. A large number of parameters exist; including manually setting lot size which increases the leverage on the trade (making it higher risk), selecting specific days to trade and adjusting take profit and stop-loss levels.
Key Features
Once a customer takes out a subscription, FAP Turbo 3 comes as part of a comprehensive package:
FAP Turbo 3.0 Robot
Free Forex Brokers trading account registration with MyFXChoice and Tallinex
Comprehensive 100-page user guide
Video Tutorials
Optional Virtual Private Server (VPS)
Buying FAP Turbo 3.0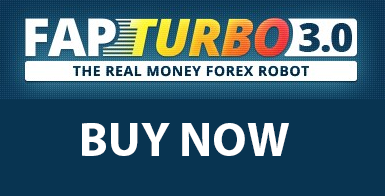 Unlike many forex robots which offer a one-off purchase price, FAP Turbo 3.0 has a different pricing model.
It is available on a monthly subscription of only $39.95 a month including 7-day trial for just $1 to see if the robot works for you & 60 day 100% money back guarantee.
The Robot is available as a direct download. The purchase of FAP is managed by Clickbetter, the respected marketplace and payment processor used by many forex software providers.
Clickbetter provides a 60-day moneyback guarantee, which is standard amongst other processors such as ClickBank and Avantrade.
The refund rate of FAP Turbo 3 on Clickbetter is low at 0.50%.
Forex Trader Feedback
Online trader feedback for FAP Turbo 3 is mixed. Some traders report the EA trading profitably on the default lot size of 0.1 and point to lower leverage levels producing excellent performance. Other traders say performance is erratic across different currency pairs.
Summary and Rating
The refund rate is low; the subscription package is very comprehensive and includes a 100-page guide. There is also a 60-day money-back guarantee offered on the software. Performance appears solid over the six years of backtesting provided by the developer; however, it is not based on real-time quotes and does not take slippage and commissions. Backtesting quality is also only at 90% and not our preferred 99% which is crucial for any strategies where scalping is involved.
We have mixed views on the monthly subscription pricing model employed by FAP Turbo. On the one hand it might be considered more expensive than buying a robot outright; however with constant monthly income streams from subscribers, it allows the robot developers to continually reinvest in software development, keeping FAP Turbo always up to date.
Trader feedback is also mixed. We could not find consistency in the reviews. Instead, a multitude of different areas received feedback, some good and others bad.
Based on our review, with everything considered, we rate FAP Turbo 3.0 with a 3 1/2 out of 5-star rating.
| Area Reviewed | Star Rating |
| --- | --- |
| Customer Support | 3 |
| Price | 3 |
| Performance | 3 |
| Usability | 4 |
| Axcess FX Rating | 3.25 |
Written by Chris Gillie

Chris Gillie is the founder of Axcess FX, a forex software review and research website. He is a former investment banker who worked in FX Sales on the UBS London trading floor. Chris has been using forex trading software as part of his trading set-up since the late 2000s and the embryonic days of MetaTrader and the MQL coding language.