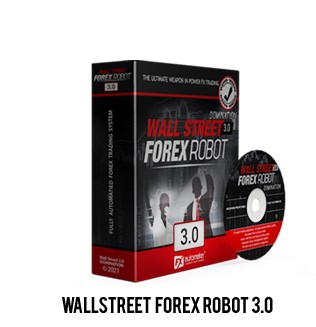 WallStreet Forex Robot has been around over ten years, with the first version launched back in 2011. The second version, 2.0 Evolution launched in 2016 and the latest version 3.0 Domination launched in Autumn 2021.
WallStreet Domination is a product offered by respected forex software development company, FXautomater, who are also the developers behind a suite of other high-performing Expert Advisors.
Our in-depth review of WallStreet Forex Robot, updated for 2023 for version 3.0 Domination serves to help you make an informed decision if this EA can help you trade profitably and complements the key robot information on the official site.
What Trading Strategy does WallStreet 3.0 Domination Use?
WallStreet 3.0 is a sophisticated EA. Like versions 1.0 and 2.0 it continues to generate reliable monthly returns with low drawdown using multiple algorithms that provide dynamic features that adapt to changing market volatility and other conditions as part of an inbuilt trading system.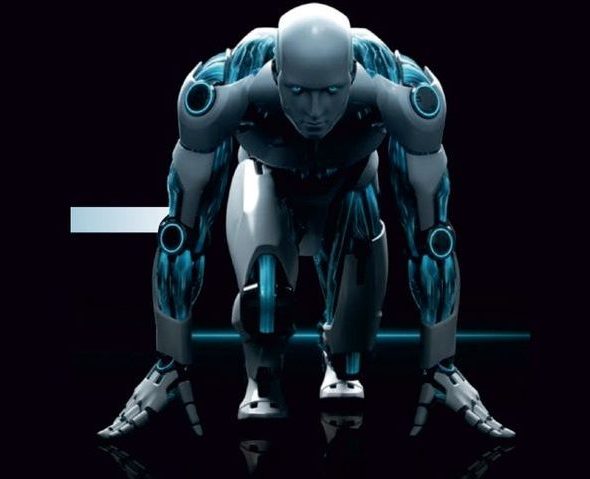 The multiple programs work to allow the robot to continuously analyze the forex market, identifying short to medium term trends and forex signals with the highest probability of success and automatically placing them for broker execution.
Wall Street 3.0 is programmed to trade the major currency pairs, which are traditionally the most liquid with high trading volumes and the tightest spreads. The currencies traded are GBPUSD, EURUSD, USDJPY, AUDUSD, USDCHF, USDCAD, and NZDAUD.
Some traders classify WallStreet 3.0 as a scalper robot. Following our research as part of this updated WallStreet Forex Robot review, we do not think this is in fact the case. Verified real trading data on Myfxbook indicates that like version 2.0, WallStreet 3.0 also places between 2 and 3 trades a day, generating an average 14 pip profit per trade. This data does not align with a pure scalping robot, which would reflect more daily trades with small pips of profit.
The official website does make a point of highlighting that the robot is not a scalper and therefore complies with forex brokers who sometimes don't like the excessive churning caused by scalping. WallStreet 3.0 Domination is fully broker compliant with its inbuilt programming that trades frequently but also profitably on a broker's MT4 trading platform.
Dynamic Features Using Multiple Built-in Algorithms
Forex Robot 3.0 Domination has built-in coding to protect against adverse market conditions. The algorithms detect wide spreads, trade execution slippage, and quote errors. It is a very dynamic Expert Advisor. The robot developers have called the algorithms, the High Spread Protection System, Slippage Protection System, and Broker Protection System. Other algorithms coded into the software include:
Profit Protection System
The Profit Protection System monitors the current take profit level on a trade. If it considers that the take profit level is not optimal, it will close the forex trade to ensure that if a trade position is in the money, then some profit will be realized before the trade turns loss-making.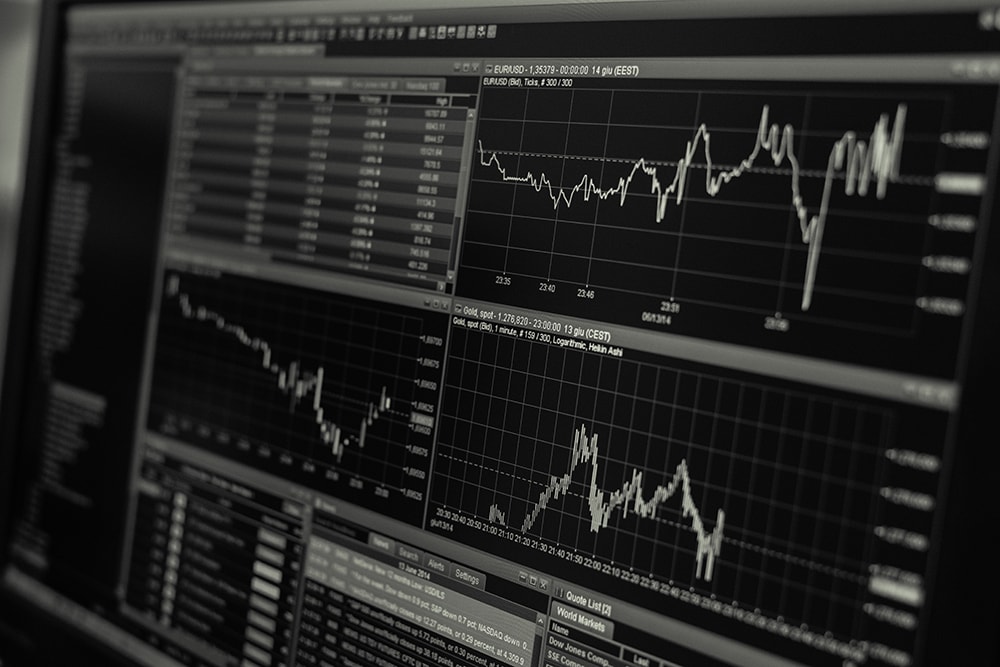 Time Management System – Choose your trading hours
The Expert Advisor does not need to trade during fixed hours; instead, it is a forex trend detector identifying trades across all three major Foreign Exchange trading sessions (US. European and Asian trading sessions). As a result, you can choose how long and when you want Forex Robot 3.0 to trade. Using a VPS, you can leave the robot configured for automated trading continuously across all the trading sessions.
Risk Control – Advanced money management

Like all proficient EAs, Robot 3.0 Domination allows you to change the trading parameters to adjust the risk level with the inbuilt money management system. You are in control of lot size and can control drawdown.
Broker Spy Module
The Broker spy system is part of the dynamic trade algorithm. It monitors delayed order execution and negative slippage, which exists to inform you whether your broker is working excessively against your interests. It is a useful tool, mainly if there are volatile trading conditions, and forex markets are starting to gap.
What Are the Updated Features in Version 3.0 from Previous Versions?
WallStreet 3.0 has a number of updated features from earlier versions, key of which is a market bias algorithm. The algorithm allows you to filter trades taking into account the direction that institutional investors are trading in a specific currency pair. Other updated trading tools include:
High-impact news filter
Pending stop loss and limit orders
Real time update system
Advanced money management
An Overview of the Performance
The official website provides substantial evidence of trading results through backtesting and, importantly, a real-time trading account with four years of continuos live trading including updated results for version 3.0 which show a positive continuation since it's Autumn 2021 launch.
Real Money Trade Account
As part of this WallStreet Forex Robot review, we want to break down the Myfxbook verified performance record for you in the screenshot below on the real money trading account.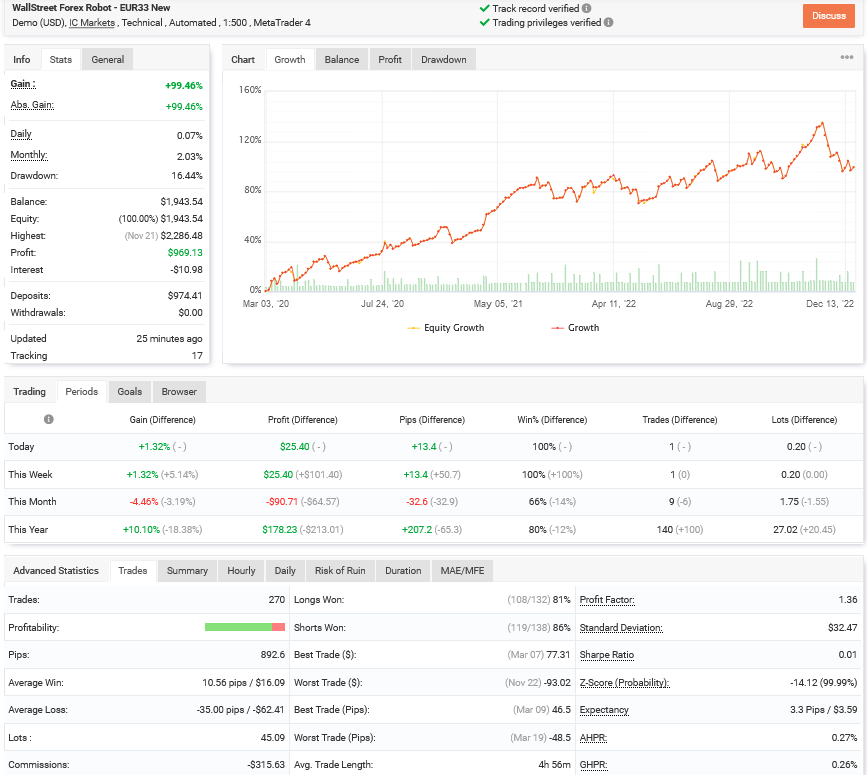 As you can see by the screenshot, the Profit Factor is above 1.00 at 1.36, which means the robot is trading profitably with profit across all the profitable trades, outweighing losses on losing trades. A profit factor lower than 1.0 should not be a consideration for purchase.
Drawdown at 16.44% is very low, indicating that Robot 3.0 Evolution operates a strategy that is not high risk (where drawdown levels can be 50% or more!). Drawdown is the difference between the peak and the trough in your trading account's capital.
The overall gain from almost three years of trading is 99%. The average monthly gain from when the account was verified is 2.03%. It is steady and further evidence of a lower risk strategy. High monthly profits can be an indication of riskier trading strategies.
Backtesting
Backtesting history across each currency pair traded is available on the official website with 22 years of backtested performance data.
Below is a screenshot showing the Strategy Tester Report on a 15-minute chart interval for GBPUSD. You will see on the right-hand side it says modeling quality is 90%, not the 99.9% that we would expect.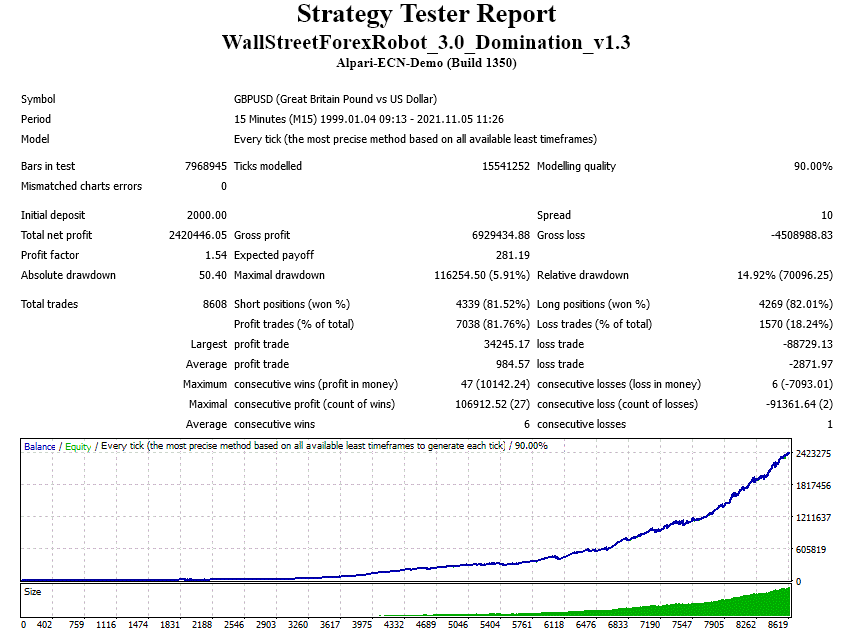 We would prefer that the developers used data that gives 99.9% modeling quality. We are a little disappointed that it was not a consideration given the impressive list of features and algorithms that make up this sophisticated and dynamic Expert Advisor.
To explain, MetaTrader's Strategy Tester is the backtesting tool the programmers have used, and it only takes account of fixed spreads as a basis for the calculation. Tick data tools such as Birt's use actual bid/offer prices when recorded, meaning variable spreads. It is much more accurate and can make a significant difference in whether a robot strategy is either more profitable or less profitable.
An Excellent Video Giving A Detailed Overview Of WallStreet 3.0 Domination
If you found this video informative, and also find this WallStreet Forex Robot review adds value, remember that key product facts are also available at the WallStreet 3.0 Domination Official Site
What are the Key Features?
Evolution 3.0 with its complex built-in algorithms offers an array of features including:
Compatible with any broker using the MetaTrader 4 and MetaTrader 5 trading platforms
Fully ECN compatible
Full risk management control by always ensuring that automated trades have protection from slippage and high spreads
Choose your trading hours.
Stealth mode
Easy to set up and use for all levels of forex trader
Adjustable parameters for experienced forex traders, increasing leverage for a specific risk appetite from low up to high risk
Market bias algorithm
Real time update system
Pending stop-loss and limit orders
Purchasing Forex Domination 3.0
What do you receive when you purchase WSFR 3.0?
Downloadable .exe file with one real account license and licenses for unlimited demo accounts
Three free supplementary WallStreet Robots:

WallStreet Crypto
WallStreet Gold Trader EA

A comprehensive user guide with installation instructions and how to use it either as a default trading system or tailoring it to suit your trading style
24/7 Trader Support
Full 60-day money-back guarantee
How much does the robot cost?
WallStreet 3.0 is currently available to buy now for $267 and includes a comprehensive package

How can I buy the robot?
Robot 3.0 Domination can be purchased at the official website checkout, which uses Avangate, the respected digital marketplace's integrated checkout system.
Avangate provides all the administration services for the robot, which should give you confidence that its team of developers and administrators are managing the Robot 3.0 Domination properly. Avangate looks after the robot's sales process, including payments allowing the developers to concentrate on what they do best, developing forex software.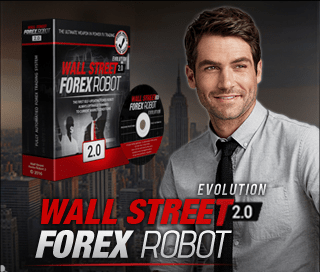 About Other WallStreet Forex Bonus Products
WallStreet Recovery Pro
WallStreet Recovery Pro differs from Domination 3.0 in one key area – Open trades handle differently. If the Recovery Pro closes a trade resulting from a stop loss trigger, a counter trade is opened with an adjusted lot size to compensate for the initial trade loss.
WallStreet Asia
WallStreet Asia is, first and foremost, a scalper trader trading the Asian session. Like Wall Street Recovery Pro, it also opens a counter trade in a larger lot size to compensate for the initial trade loss.
WallStreet Gold Trader
WallStreet Gold Trader shares the same algorithms and features as WallStreet 3.0 Domination The only difference is that it focuses on the gold against the dollar exchange rate, symbol XAUUSD.
Setting Up the Expert Advisor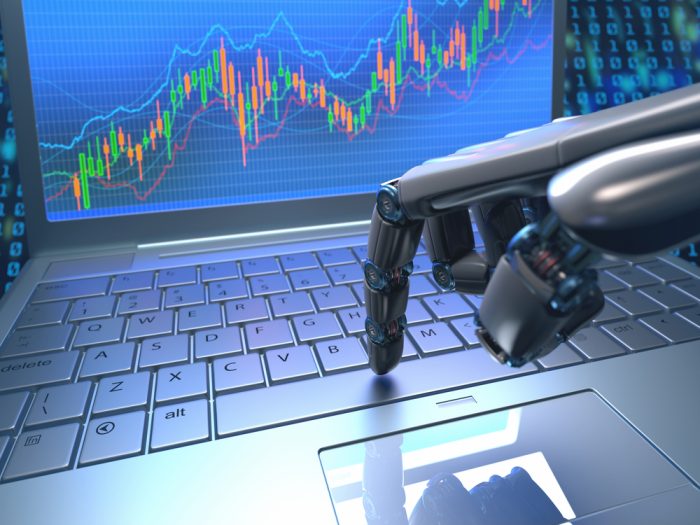 WallStreet 3.0 Domintion is straightforward to set up and comes as a downloadable .exe file. Like all forex robots that use the MQL coding language, you will need to ensure that the MetaTrader platform is already running on your PC or Mac. Once running, you need to attach the robot to all the currency charts you want to follow and configure it with the correct m15 chart timeframe.
The set-up process is clearly outlined in the user instructions that come with the robot purchase. WallStreet offers a 24/7 support desk, and they will help you set up your robot so that you can start trading.
It is worth pointing out that your computer will need to be continuously running during the hours that you want to trade. If this is problematic, you can trade using a VPS, ensuring that you never have to turn your PC on and off.
Trader Feedback
As part of the research for this review of WallStreet Forex Robot we have discovered quite a bit of trader feedback across various specialist forex trader forums and trader feedback sites such as Babypips and FPA.
Traders confirm that drawdown is low on the standard settings, which is good to hear, although profit levels are also lower.
A lot of trader feedback says that to get the best from the robot you need to use non-default settings; it is thus vital to backtest different settings extensively, then dummy trade with a demo account, find what works the best for you, and what most closely aligns with your trading style.
Trader feedback also indicates that customer support is responsive, which we would expect seeing as 24/7 support is advertised, which is significantly better than the 24/5 offered by most robot developers.
For traders who decide that the robot is not for them and have asked for a refund, consistently positive feedback is provided about how straightforward it is to get your money back. We mentioned earlier in our review that FX Automater uses Avangate's services, and it is the latter who provides the money-back guarantee.
Summary and Review Rating
FXautomater is a reputable forex software developer with a suite of established trading robots.
The WallStreet 3.0 performance continues to be strong – Multiple programs coded into the software have created a sophisticated robot with verified performance data that indicate an average of 16 pips profit per trade in a live trading environment with an average of between two and three trades daily.
WallStreet Forex Robot 3.0 is excellent value at just $267 for automated software that includes dynamic features and multiple algorithms all in one Expert Advisor. As part of the purchase price, you also receive three other robots, which are part of the FX Automater stable of EAs, although we have not reviewed these.
The customer support team is above average amongst robot developers with 24/7 response advertised. There are little adverse reports relating to customer support on any trader forums.
Trader feedback indicates that you need to tailor the settings to get the best out of Domination 3.0. As the robot is sophisticated, with dynamic features, to do this, you need to have at least some forex experience, as opposed to being a complete beginner.
Following our analysis in this WallStreet Forex Robot 3.0 Domination review we give this EA 4.3 out of 5 stars. It is one of the best forex robots currently available, ranked #2 in our 20 best forex robots list. Our rating breakdown is in the table below.
| Area Reviewed | Star Rating |
| --- | --- |
| Performance | 4.3 |
| Price | 5.0 |
| Customer Support | 4.0 |
| Usability | 4.3 |
| Full Review Rating Score | 4.3 |
Further top performing forex robots for which you can also read our full reviews here at Axcess FX include:
Written by Chris Gillie

Chris Gillie is the founder of Axcess FX, a forex software review and research website. He is a former investment banker who worked in FX Sales on the UBS London trading floor. Chris has been using forex trading software as part of his trading set-up since the late 2000s and the embryonic days of MetaTrader and the MQL coding language.